ORCUS O DIS, a melodic death metal band from Mexico, recently announced the completion of all work and the upcoming release of their long-awaited new EP album Post Mortem. The new EP will include 7 songs, featuring 5 brand new tracks and 2 re-recorded versions of their latest singles Void Delusion and Embodying My Misery.  
Post Mortem is set to be released on July 1st, 2022.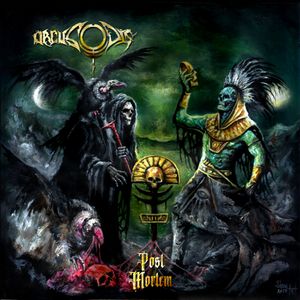 The tracklist will be as follows: 
1. Descensus Aris  
2. Fobos, Deimos, Enio  
3. Void Delusion  
4. Man in Flames  
5. Burn in Hell  
6. Embodying My Misery  
7. …of Solace and Solitude  
With Post Mortem, Orcus O Dis aims to conceptualize the human experience and our relationship with death; going over topics such as war, and the submission of society brought by the ambition and pursuit of power. As well as, mental health and life after death.   
Guitarist Markus Banda professes the band's love for legendary Metal bands and states of the release: "we set out to create something that had a raw, powerful, organic sound to it but with a clear modern influence."  
"Being die-hard fans of old school Metal bands, we've always been impressed by their massive sound, therefore we set out to create an album that had a raw, powerful, organic sound to it but with a clear modern influence. With every year and every release, there is this pervasive feeling that there exists a push to phase out the human element in the Metal genre. Some releases, regardless of being impeccably written, often lack the vivid energy of an actual band playing the instruments" (END QUOTE)   
Orcus O Dis decided to make a record focused on the collective effort that gives bands their own unique sound, all members contributing to every step of the process, from the early composition, all the way to the tracking and even the production. Post Mortem is a truly independent effort that captures the aesthetic of legendary albums that influenced them such as Lunar Strain (In Flames), The Somberlain (Dissection), Slaughter of the Soul (At the Gates), etc… Their raw sound earned those albums their legendary status thanks to their intense and unique sonic landscape.   
"Ask yourselves what would your favorite metal albums sound like if they were produced today? We decided to pay homage to those albums that inspired us to make music in the first place."  Orcus O Dis invites you to check out Post Mortem and let you be the judge!   
The latest album release by Orcus O Dis was IX in 2013. After some changes in their lineup, Orcus O Dis released the singles Embodying my Misery in 2016 and Void Delusion in 2018. In 2010, Orcus O Dis was part of the Battle of the Bands stage at Wacken. Lately, the band has been part of the lineup of Metal Days in Tolmin, Slovenia in 2018 and 2019, as well as a mini-tour in Poland and Mexico in 2019.  
Line-Up  
Alfredo Rocha - Lead Vocals 
Emmanuel Gonzalez - Lead Guitar 
David Nuñez - Drums 
Jesus Fuentes - Synth and Piano 
Markus Banda - Lead Guitar, Bass, Backing Vocals, Orchestrations, and Sequencing